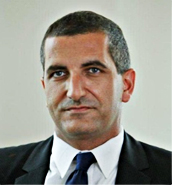 Eliav Azulay-Oz
Managing Partner
Eliav Azulay-Oz is a Managing Partner at Previz Ventures. He is an accomplished business & legal manager, with extensive global experience in setting-up and working with early stage companies as well as advising S&P 500 companies.
Eliav serves as a director on the board of directors of several start-ups in the Medical & Communications sectors, including in Profility Inc. and Lunguard Ltd.
Previously, Eliav served as the General Counsel and Business Development Manager of a number of private and publicly traded companies in the services, defense, and technology sectors. In those capacities, Eliav has successfully developed, organized and managed new business units in a global environment (e.g., USA, Europe, Latin America and Far East).
 Eliav has practiced law many years in the United States (NY) and in Israel at a leading global law firm (DLA Piper's NY Office) and an Israeli based law firm (Yossi Avraham & Co.) and specialized in complex international transactions, financial markets, internet and web-based services, venture capital investments and general commercial matters. He has led and closed international and local transactions ranging from several millions to multi-million dollar transactions.
 Eliav holds a Global MBA from IDC Herzeliya, an LL.M. (Master's in Law) from NYU, and an LL.B. from Tel Aviv University.